Canada is the world's second largest country, but is almost half empty. When most think of Canada they think of a place north of America with nothing that exciting. Well think again because Canada has loads to offer and is also my home country. If you've read some of my other posts you may learn I have not explored it much, but I have learned lots from freinds so here is my second article in my "beyond booking" series on my beautiful homeland of Canada.
Toronto*
Canada's largest city with over 2 million people has lots of places to attract you. From the edge-walk of the CN Tower to the zoo that exhibits lots of Canadian species your'e sure to find lots of places to enjoy in the six.
To get to Toronto, there are two main airports. One is located on an island next to downtown, but does not live up to a major international standard. It is meant as a way for people to fly to and from Toronto once every week. Toronto's main international airport is called Pearson International or YYZ. This airport is five times busier than the other one, but is 25 minutes away from downtown. To get to downtown from that airport a train known as the UP Express departs every 15 minutes from the airport to downtown Toronto.
Toronto has tourist attractions around the whole city. In downtown the most well known attraction would be the Canadian National Tower. The tower is visible from anywhere in the city and most recently opened "the edge-walk" which gives you the opportunity to walk 360 feet above the ground and get a great view of the city.
Outside of the CN tower other attractions in Toronto include the Hockey Hall of fame, Ripley's aquarium of Canada, Ontario Science Centre and the art galley of Ontario.
Toronto has many different restaurants and bars the most notable being the Loose Moose. This is probably one of the most notable restaurants in Canada and has loads of beer on tap plus vintage signs from when Canada first became a country. Other notable restaurants in Toronto include Canyon Creek, Jack Astor's, the Keg mansion and cactus club.
Getting around Toronto is pretty easy. Their is a subway system with four lines that spread across the city. Their is also a streetcar system on various streets in downtown. Most locals will refer to both these systems as the TTC because that is the transit operator in the city. However there are certain places such as the Science Centre and the zoo which cannot be accessed by public transit. For places such as I recommend taking a cab to them, but go between 10 and 4 when traffic is not bad.
In terms of day excursions, the only real day excursion worth taking would be Niagara Falls. It is only a 1 hour drive from downtown, but can also be accessed by train. Though Niagara Falls would certainly be a place worth going to on its own, I still think driving down there for a day would be worth it as specially in the summer.
Montreal*
Canada's second largest city as well as the second largest French-speaking community in the world has a unique culture of its own. Located in the province of Quebec the city may be known for its French-speaking population however those who visit will hear them speaking an unscripted language with both French and English words.
Montreal can easily be accessed by both Rail and Air. The city's main airport is Pierre Elliott Trudeau Airport located 15 minutes west of the city centre.  This airport offers destinations to 5 of the 6 continents around the world. For those are familiar with Mirabel as Montreal's main airport, this port has actually shut down all its passenger flights and moved them to P.E Trudeau (the one mentioned above).
To get to Montreal by rail, trains run 3 time a day from Toronto and from Ottawa towards Montreal. There is also a scenic train operated by Amtrak(the federal rail operator of the USA) that runs from New York to Montreal and goes through the Adirondack Mountains.
Montreal has loads of tourist attractions that are sure to fulfill you and your family. The most notable attraction in Montreal would be Mount Royal. This is a small mountain located in the middle of the city  offers an astounding view of the downtown area and its surroundings(the picture shown above was taken there). To access it you can either take a 30 minute hike up the hill or drive up there.
Another notable tourist attraction is Parc Jean Drapeau. Originally built for the worlds fair this recreational park is located on an artificial island and can be accessed either by the city metro or by driving across a bridge. This park really holds many attractions in one including an amusement park called La Ronde, a giant sphere which has a museum inside it, a fort that was used during the war of 1812 and many other great places to visit.
To get around Montreal, I would highly recommend taking the metro. This metro is divided between 5 different lines spanning across the city and will easily help you get around especially now, as most of the roads in the city  are closed for redevelopment.
Montreal has many different restaurants with food from lots of cultures. One of Montreal's most well known restaurants would be Bouillon BILK. This restaurant offers a unique french menu and is sure to serve you with an amazing meal. Other great restaurants in Montreal include Restaurant Tandem, Bistro L'entrepont, Damas Restaurant and Bistro 1843.
The place that is worth taking a day trip to are the Laurentian Mountains. There is no rail route to the laurentians so the only way to get there is to drive.To get to the Laurentians  from Montreal drive up Autoroute 15 and get off the highway in Mont-Tremblant. From there follow the signs to Mont-Tremblant National Park. The Laurentians are a beautiful mountain range with lots of scenic points to view the surrounding area. If you are going in the winter however, bring skis so you can see in the Tremblant ski resort.
Ottawa*
The Nation's capital is probably the place I have been to the most. It is only a 2 hour drive from where I live and has many great museums to visit as well as the parliament buildings(pictured) which is where the government of Canada is based.
Getting to Ottawa is not as  easy as getting to Montreal and Toronto. Ottawa's airport has only two intercontinental destinations: London and Frankfurt. So while you could fly to Ottawa by connecting in one of those two places I would not recommend doing that. I would recommend going to Toronto or Montreal first and then taking the train to Ottawa.
Ottawa has so many great places to visit which is why I go there so often. Most notably in Ottawa are the Canadian federal museum which consist of the Canadian Museum of nature, the Canada Aviation and Space Museum, the War Museum, the Science and Technology Museum, the Museum of Canadian History(this one is technically located in Quebec), the Museum of Food and Agriculture as well as the National Gallery of Canada.
Getting around Ottawa is not super easy. Currently, there is a light rail system consisting of one line with 5 stops. A new line is under construction that will spread across the city but will not be finished until 2019(if you are reading this during or after 2019 chances are it will be open). To get around here I would recommend taking cabs as traffic isn't that bad in Ottawa nor are their any closed roads.
Most of Ottawa's best restaurants are located in the Byward Market district. This area does not just have great restaurants however. As you may have guessed by the name it is a marketplace with lots of farmers selling their food that they grow. Almost every time I go to Ottawa we walk around this market because it has so many great food and plants to buy and eat. I would most certainly recommend coming here and trying some foods yourself.
Ottawa is located in the province of Ontario, but to the north of it across the Ottawa River is the province of Quebec and the city of Gatineau. Even further north of Gatineau is Gatineau Park which is the a huge protected area of over 100 KM with loads of hiking trails and outdoor parks. Gatineau Parks main entrance is 4 KM north of downtown Ottawa. To get here you take the bridge to Quebec then drive up Autoroute 5 and get off in Chelsea. This area is a beautiful landscape and is surely worth taking your whole family too.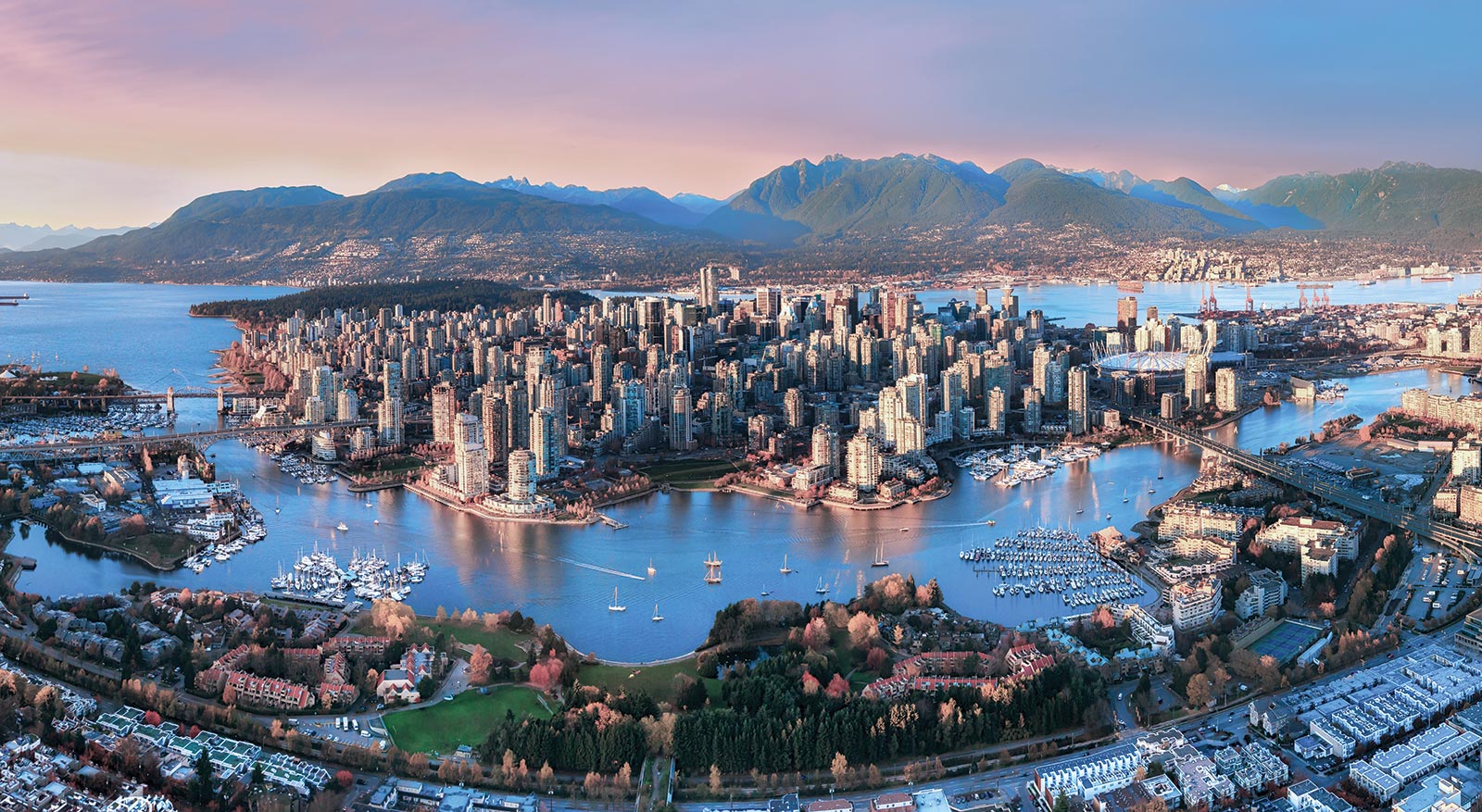 Vancouver
The previous three places mentioned are located in eastern Canada, but there are lots of places in western Canada to visit as well, most notably Vancouver. This city, located alongside the Pacific Ocean has many to offer for the whole family.
To get to Vancouver there is an airport located less than 10 minutes away from downtown which has destinations to over 100 different places around the world. There is also an Amtrak route that goes from Seattle to Vancouver twice a day.
Vancouver's most well known tourist attraction would be Stanley park. This urban park might just be the Central Park of Canada. Located along the waterfront this park has many different monuments along with the Vancouver Aquarium. It also has beaches which are open during the summer. Another great place to visit would be the Telus world of science. This unique observatory offers a lesson on planets as well as on other technology.
To get around Vancouver take the metro system, or as the locals call it"the skytrain". This metro system is spread widely across the city and will certainly be able to get you to where you're going.
Vancouver is well known for having a high amount of asian population. It's because of this lots of Vancouver's good restaurants offer asian cuisine. Some of Vancouver's best asian food restaurants include Blue Water Cafe, Shizen ya on Denman, Kishimoto Japanese Kitchen and Kingyo. Other great restaurants in Vancouver include Lupo, Bacchus, Forage and Carados.
The one day trip that I would highly recommend taking would be to Whistler. This ski resort is open year round, and has over 200 runs as well as the highest gondola in the world. To get to Whistler take the sea-to-sky highway which would be an hour drive. This is one of the places that I would like to visit the most, and hopefully will someday, but for now you can enjoy it for yourself.
Banff
I thought for my last place I would save one of my countries more hidden destinations. Banff, Alberta is a small village located in the middle of the rocky mountains. The town may be small does not live up to being a little village.
To get to Banff you must first fly to Calgary, and then take the scenic drive along the trans-Canada-highway towards Banff. Eventually you will be forced to pay as you are entering a national park. From there, you will see signs directing you to the small village.
The city has lots to do in both summer and winter. During the winter you can cross country ski through the mountains as well as ski at the nearby Lake Louise ski resort. During the summer you can hike up the mountains(walking around would be the main way to get around here so I will not be providing a paragraph on how to get around here), as well as visit the local arts centre and visit the rockies museum.
Banff is a very nice place to visit, however despite being a well known destination there are certain factors that make Banff seem like a small town,one of which is restaurants. There are very few nice restaurants in Banff. Chances are that you will easily be able to find all the restaurants in the town on your own if you visit here.
Banff has enough excursions itself that you would not need to take a day excursion to enjoy yourself. I wouldn't recommend taking any day trips but what I will say is that if you flew into Calgary, I would recommend stopping there on your way back to visit the downtown area. It's most notable attraction would be the Husky Calgary Tower, but it is also home to Canadian national music centre.
Thanks for reading.